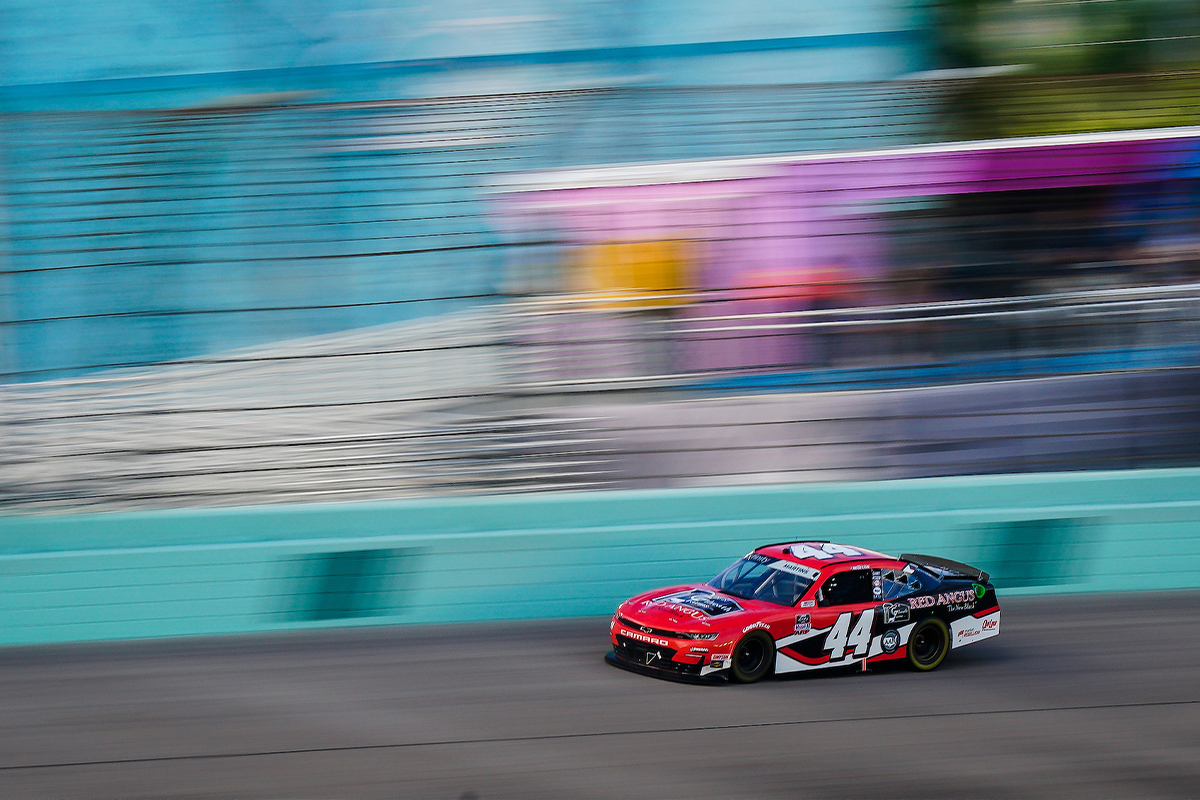 Officially a season-best finish of 18th for Tommy Joe Martins at Homestead-Miami Speedway. The team fought hard all day to bring home a Top20. A fuel pick up issue on the last GWC (Green-White Checkered) kept us from reaching a little bit more. However, it was a solid day for Tommy Joe Martins and the Gilreath Farms team.
Fuel pressure issue there on that last restart hurt us. Just couldn't get going + I spun the tires. Gotta be better in those clutch spots. Wanted that top15 bad. – Tommy Joe Martins
Our Meat Wagon got a few scrapes on the side, but that's just part of the game at Homestead-Miami, even when it comes from oil on the track.
Up next, the ALSCO uniforms 300 race is a 200-lap and 300 miles contest that keeps spectators cheering on their favorite drivers from start to finish. You will experience the heart-pounding thrill of NASCAR racing at "The Diamond in the Desert". So, don't miss the chance to cheer on Tommy Joe Martins from start to finish. And, expect plenty of excitement and anticipation!
Tune in the ALSCO 300, scheduled for 4:30 p.m. on Saturday, Mar. 6th, with coverage by Fox. Also, broadcast on PRN and its network of nationwide affiliates, in addition to SiriusXM NASCAR Radio.
About Gilreath Farms
Gilreath Farms of Knoxville, TN are premium Red Angus ranchers promoting the prime quality of the often-overlooked Red Angus breed. In many areas of the country, Black Angus has more name recognition than Red Angus, and we see this reflected in market prices. Gilreath Farms, a firm believer in the superiority of the Red Angus breed, would like to change that.
Ken Gilreath  – Official sponsor of NASCAR
Through companies owned by Ken and Tina, a sponsorship arrangement for 2021 was signed with NASCAR's Xfinity series driver Tommy Joe Martins who drives the 44 car for Martins Motorsports. The 44 car displays Tina and Ken's company brands at each race. In addition to the Xfinity cars, Ken's TA2 series car displays the same design